---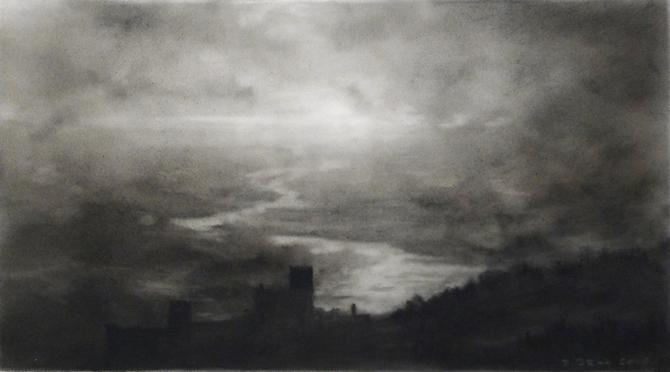 ---
Dozier Bell
Dozier Bell's images of sea, landscape, sky and clouds are snapshots of an inner reality that finds echoes in the natural world of coastal Maine. Within this visual framework, Bell explores the transformative power of memory over lived events and the ongoing presence of the past. Animal consciousness – the level of awareness that humans share with animals, birds, and insects – is fundamental to all her imagery, rooting it in the realm of instinct. There is nostalgia in this work for a pre-industrial world unknown to us, as well as imaginative speculation about the future of nature and our place in it.
Bell's meticulously executed, small scale charcoal drawings embrace a context that includes the work of Rembrandt, Constable, Fitz Hugh Lane, and the art, philosophy, literature and music of German Romanticism. While diminutive in size, these drawings are enormously evocative in their visual presence.
The drawings are fully resolved, independent works, but in many instances serve as the conceptual basis for her larger scale paintings.
Dozier Bell was born in Maine, where she continues to live and work. She graduated magna cum laude from Smith College in 1981 and received her MFA from the University of Pennsylvania in 1986. Among her many awards, Bell received a Fulbright Fellowship as artist-in-residence at the Bauhaus University, Weimar, Germany from 1995 to 1996, a Pollock-Krasner Foundation Grant in 2003, and a grant from the Adolph and Esther Gottlieb Foundation in 2009.
Artist's Website